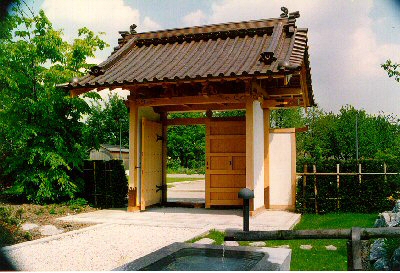 Membership in the BGJ-D e.V.
The "Jōdo Shinshū Deutschland (BGJ-D) e.V." is a registered association, which invites all members to an annual general meeting in the second quarter.
(Because of the current corona epidemia in 2021 the general meeting will be later.)
At the time being, the membership fee amounts to
10 € per month or 120 per year
.

In exceptions (for unemployed, students, seniors with a small income etc.) the executive board can concede a minor membership fee. Ordained priests are exempt from the membership fee.
Since the BGJ-D shares the general goals with the EKO Community of European Shin Buddhists (an association for the promotion of European Shin Buddhism with its location in Düsseldorf), there exists siince 2008 the agreement, that members of the BGJ-D are automatically members od the EKO community. Membership in the EKO Association does not imply other obligations, but members receive invitations and information about the programme of the EKO Community. People who do not wish to enter the EKO Commutiy can declare this in their membership application form.
Membership application form as pdf-Version: Mitgliedsantrag.pdf
Bank Account
Jodo Shinshu Deutschland (BGJ-D) e.V.
Sparkasse Berchtesgadener Land
IBAN: DE33 7105 0000 0000 3888 19
BIC: BYLADEM1BGL

At any donation or money transfer please always note the purpose of the transfer or a payment reference!